Pet Oxygen Flow Regulator
Pet Oxygen Flow Regulator
Our palm-sized Pet Oxygen Regulator is easy to use, equipped with a easy to read Oxygen level dial. Start and stop the flow of oxygen with a flick of your wrist. Switch out Pet Oxygen Canisters in seconds and leave the bulky equipment behind for portable Pet Oxygen Transport on the go or for transport use to your Veterinarian or nearest emergency care facility.
Note: This product is only compatible with Pet Oxygen Canisters
Pet Oxygen Flow Regulator Specifications:
Available in 3 flow rates: 0.5, 1.0, and 2.0 liters per minute. Pet Oxygen Regulators are pre-set by flow rate and non-adjustable.
Each Pet Oxygen Flow Regulator is factory-set to the flow rate you select, which must be validated by your prescription. The flow rate cannot be adjusted.
Check out our premade Pet Oxygen Kits if you're not sure which flow rate you need
Sizing for the Pet Oxygen Mask
For cats, pocket pets or dogs under 5 lbs
Depth = 2," Diameter = 3.5"
Depth = 3," Diameter = 3.5"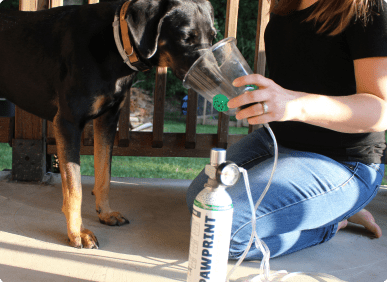 Depth = 2," Diameter = 3.5"
Measure the length and width of your pet's snout when determining the correct Pet Oxygen Mask size. You want the mask to loosely fit around their snout.
What flow rate should I get?
The flow rate is determined by your pet's weight, condition, and method of oxygen administration (i.e. Pet Oxygen Mask). The dosage guidelines below are based on the Pet Oxygen Mask. If you're not sure which flow rate to choose, as your veterinarian or check out our pre-made Oxygen Kits!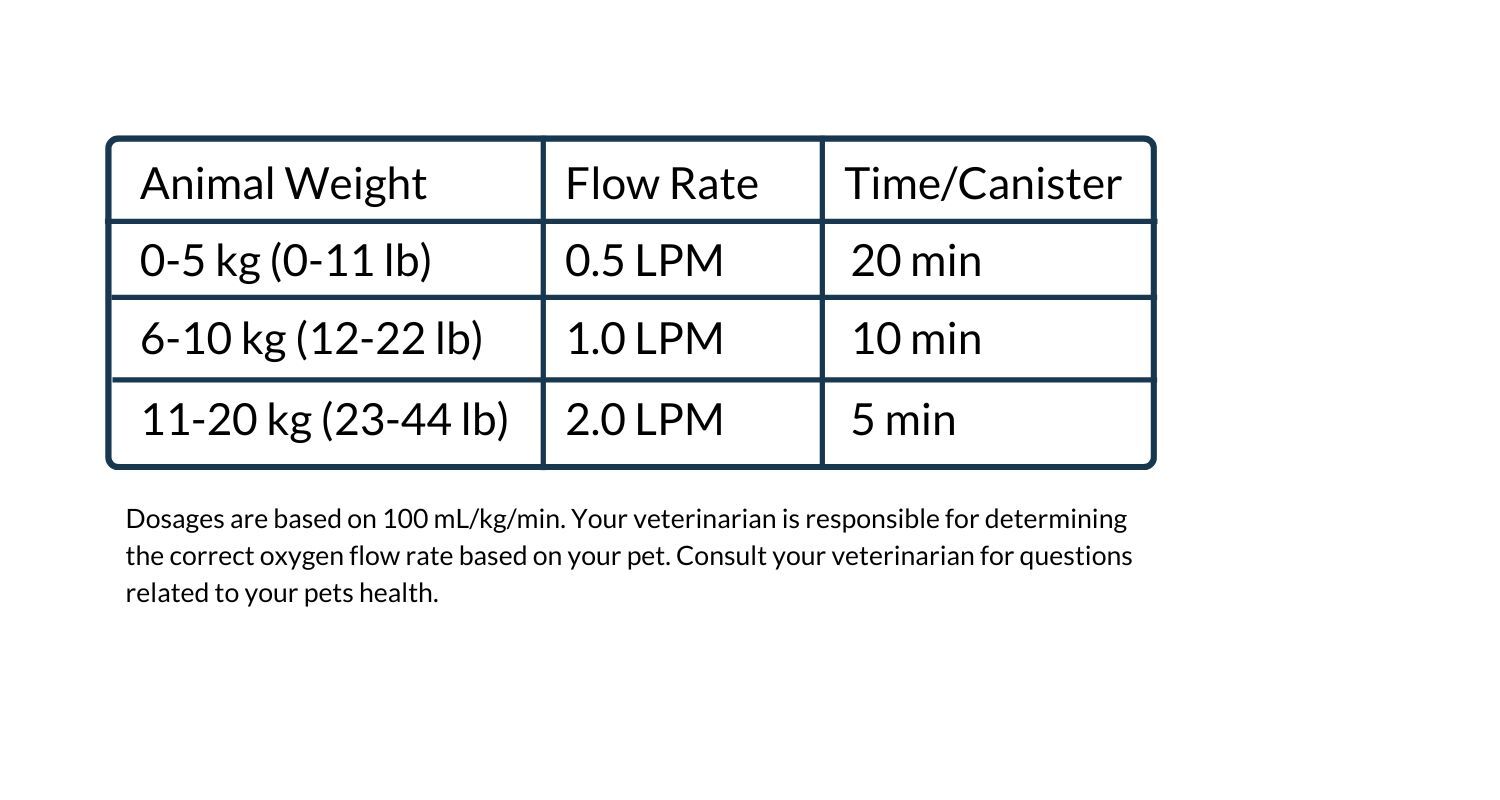 Selecting the Regulator flow rate
The flow rate is the rate at which the oxygen flows out of the Canister. You can think of it as the "dosage" of oxygen your pet is receiving.
The flow rate is determined by considering your pet's weight. The flow rate on the Regulator is pre-set to the flow rate given in liters per minute (LPM) and cannot be changed. We will check with your veterinarian that the flow rate you have selected is appropriate before shipping your order.
Please use the chart below to determine the most appropriate flow rate for your pet:
| Pet weight | Flow rate |
| --- | --- |
| 00-11 lbs0-22 kgs | 0.5 LPM |
| 12-22 lbs 6-10 kgs | 1.0 LPM |
| 23-33 lbs 11-15 kgs | 2.0 LPM |
For veterinarians: flow rate guidelines are given at a dosage of 100mL/kg/min with the Pet Oxygen Mask with the black rubber diagraphm removed being the recommended method of administration.
If your pet weighs more than 33 lbs, consider an Oxygen Concentrator (linked) for home use in order to achieve a more appropriate oxygen flow rate.